Our books are custom made and are the only way to look fabulous while keeping yourself organized.
 Each style is created by using vintage jewelry components from some of the most sought after fashion jewelry brands like J.Crew, Bauble Bar, LuLu Frost and more.  We are not affiliated with any of the brands mentioned. We also accentuate using the best crystals on the market whose brand name we are not at liberty to say– it rhymes with Tchaikovsky, sort of.  Some styles with patches are also featured for a different look, why choose only one?  All are adorned by hand and are either one of a kind or of limited quantity. These books are meant to be used for anything of value:
Taking notes during a meeting, having it handy to list anything you tend to forget, keep a journal or diary, the perfect guest book, password book, scrap book, sketch book, recipe book, Wiccan alter book, jot down your dreams book.   Just a few suggestions. 
The perfect gift for yourself or someone you really dig.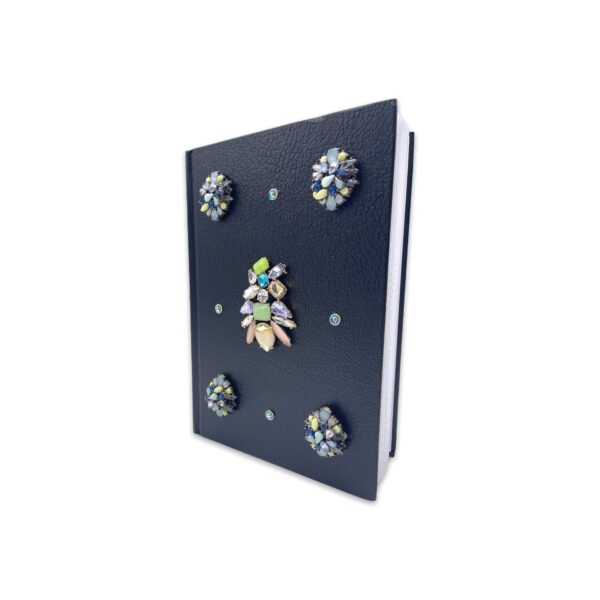 5.5 x 8 JEWELED BOOK
Pretty pastels. Intricate castings from different pieces blend well to create this treasure. Opaque and translucent stones in shades of blue and peach are soft and sophisticated. Accented with light blue AB stones set in yellow gold, just smashing darling. Dimensions 5.5 x 8 inches 110 sheets/220 pages unlined